dental hygienist Noblesville
Dental hygiene in Noblesville: Your mouth is what you eat!
Fueling Your Smile: The Crucial Link Between Diet and Oral Health
In the daily hustle and bustle and life, it's easy to forget just HOW MUCH your overall health, let alone your oral health, is influenced by what you eat.
Two very common dental issues, tooth decay (caries) and periodontal gum disease, can be easily impacted, treated, and managed by diet.
Bacteria occur naturally in the mouth, but when too much sugar or starch is consumed, acids are created that directly attack tooth enamel. These acids contribute to the breakdown of healthy teeth and gums, leading to decay and gum disease.
The dangers to tooth and gum health from a sugary diet are widely known. However, it's important to note that excessive citrus intake, high alcohol consumption and too much salt can also be damaging to your oral health.
Brushing and flossing isn't always enough to maintain great oral health. It is important to eat a well-balanced diet heavy in vitamins and minerals and low in fat, sugar, and acids to maintain a healthy mouth.
Although developing good oral hygiene habits plays a huge role in the health of your mouth, what you eat can often make or break your success in preventing and treating decay. On top of that, poor nutrition can lower your immune response and cause harm to your cardiovascular health.
A great way to prevent tooth decay is to practice eating in moderation. The golden rule! Fully depriving yourself of traditional "fun foods", like birthday cake, chips, pretzels and party snacks, your grandma's famous lemon squares is just not necessary. Once again, everything in moderation. The occasional treat isn't a crime. 
Balance is key. By incorporating whole foods from all five major food groups – fruits, vegetables, grains, dairy products, and protein (meat, fish or beans) – you can maintain healthy vitamin and mineral levels needed to keep your oral health in great shape. 
We recommend a diet rich in calcium, riboflavin, vitamins B12 and D, and complete proteins, as the body requires high levels of these components in order to prevent tooth decay and periodontal (gum) disease.
For more information and resources about the connection between diet and oral health, don't hesitate to reach out — we're always happy to answer your questions!
Noblesville Dentist Dr. Mike Deldar
Foods that impact oral health in Noblesville: different types of food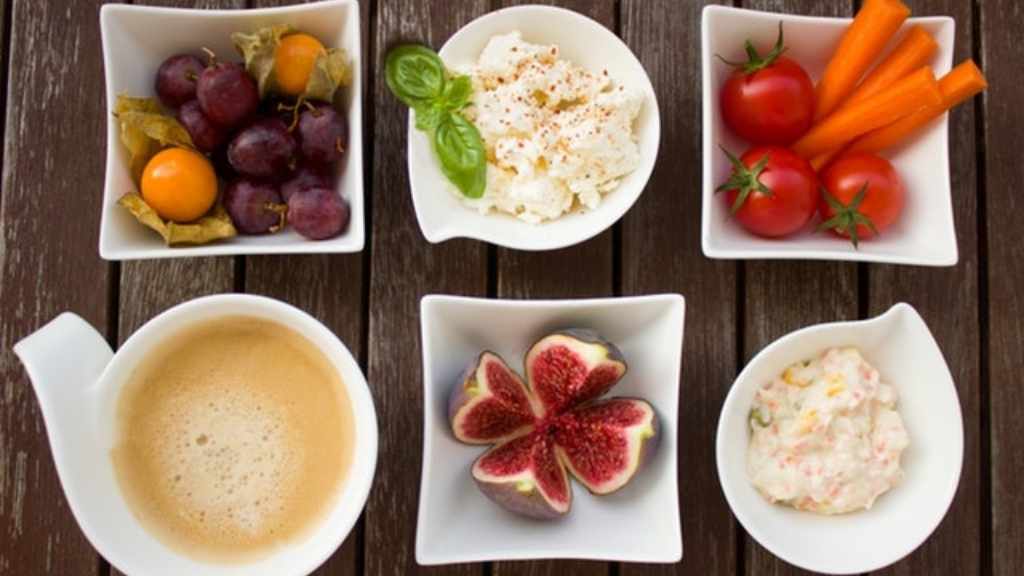 Acidic foods, such as coffee, tea, lemons, and wine, should be consumed in moderation. They aren't necessarily unhealthy as part of a balanced diet. However, when consumed in excess, they can reduce healthy tooth enamel and increase the likelihood of developing cavities.
Whenever possible, reach for natural foods instead of those that are processed, as the latter often contain fewer vitamins and minerals and more fat and sugar.
Make sure you also drink plenty of water, as dehydration can affect both soft and hard tissues in the mouth.
Crisp, crunchy foods are the best for oral health, as soft and sticky foods such as candy or dried fruits can stick to the teeth and mouth and increase the likelihood of cavities.
Balance your meals and try to include a representative of each food group in every meal. Try to avoid overeating, because every time, you eat you increase the likelihood of the development of oral bacteria.
As always, make sure to brush and floss after meals to remove any leftover food residue!
Snacking to improve oral health
Generally speaking, if you follow your dentist's recommendations for healthy foods for your child's overall health, those recommendations will also encompass oral health.
Stay away from high-fat, high-sugar snacks, as these will not only wreak havoc with your child's energy levels, but also developing teeth. Snacks that are too starchy – such as breads or cookies – are fine in moderation, but break down into sugars once eaten and develop plaque.
The best options include raw vegetables, fresh fruit, or whole-grain crackers, since these break down slowly and help protect against tooth decay and gum disease. Some nutritious combinations are listed below. Children should also brush with fluoride toothpaste after any snacks or meals.
Snack Ideas from your family dentist:
Low fat cheese with apple slices
Celery with low-fat milk
Sliced turkey and cucumbers
Mixed nuts and fresh pineapple
When preparing a snack or meal, be sure to incorporate as many food groups as possible to ensure a high-vitamin, nutritious treat.
Oral health is part of overall health animation.
I'm happy to meet with you for a consultation to discuss the best way to keep your teeth – and your family's teeth – happy and healthy through proper nutrition. I have been working with patients for more than twenty years to improve their oral health through a combination of holistic and dental practices.
By incorporating a healthy diet and regular dental visits as part of your normal routine, you'll find yourself feeling healthier than ever.
To find out more about how you can protect your teeth, schedule an appointment online or give us a call. You'll be glad you did!
If you have been searching for a "dental hygienist near me" or "best dental hygienist near me" look no further! Deldar Dental is also serving the communities of Indianapolis, Carmel, Fishers, Westfield, Lapel, Hamilton County, and surrounding areas in Indiana. 
IMPROVE YOUR QUALITY OF LIFE
Make an appointment today