Why should I choose Invisalign braces in Noblesville?
If you want to get your teeth straightened, you have likely heard of Invisalign braces. But you have so many questions. How expensive is Invisalign Noblesville? What is the best age to get Invisalign braces? How quickly do teeth move with Invisalign? How bad is Invisalign? Why do the prices for Invisalign vary so much between dentists? Where should I go for Invisalign Noblesville?
Why is the process of getting straighter teeth so complicated?
There used to be one choice for braces. Metal mouth jail for 18-24 months. Now there is a lot of information about invisible braces available, and there are several brands which are quite similar.
But you might be resistant to moving forward because you feel overwhelmed by all the information, and doubtful about some of the claims. Meanwhile, you really want to get your teeth straightened with invisible braces and a much better smile.
We believe that getting your teeth straightened should be clear, simple, and affordable!
Dr. Mike Deldar was voted best in "Cosmetic Dentistry" by Noblesville Awards Program every year from 2014-2017. With over 20 years of experience, Dr. Deldar has helped hundreds of happy patients achieve their best smile.
For orthodontic treatment in adults, he uses Invisalign aligners to give his patients the most efficient, comfortable, and affordable treatment to achieve straightened teeth. There are a number of other orthodontic options available for kids to align their teeth while they are still young.
Because he knows that some patients are concerned about the cost of braces, Dr. Deldar offers the option of using CareCredit to manage your dental expenses.
Noblesville Invisalign Dentist Dr. Mike Deldar
What are Invisalign Braces?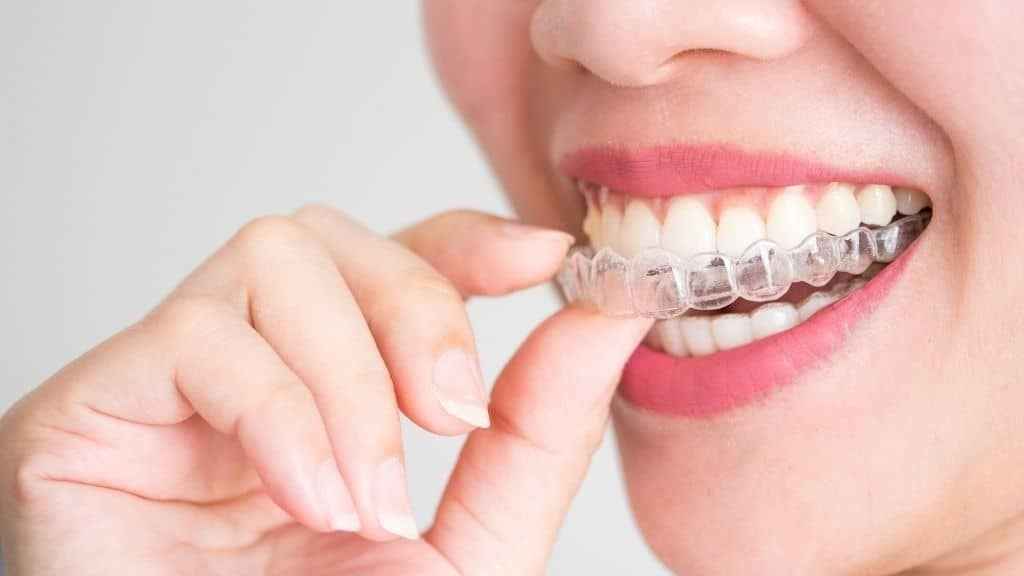 Invisalign® braces are invisible, transparent, and removable aligners which are custom created to straighten your teeth gradually without the need for metal wires or brackets. Dr. Deldar uses a 3D digital scanner to map out your teeth and create a plan for a series of aligners for you.
The aligners are made for you right in our dental office out of safe, high grade plastic and they exert pressure on your teeth to move them gradually into their new straighter position. You return every two weeks for the next set of aligners which will move your teeth a little more into their new places.
Depending on the position of your teeth when we start, your Invisalign treatment could take as little as six months or over a year. The process is painless and much faster than with traditional braces. You will start seeing results in just a few weeks.
Meanwhile you can continue to eat all your favorite foods and take part in sports activities. You will wear your Invisalign aligners 22 hours a day (and night) and only remove them to eat meals, and to floss and brush your teeth.
The best part about Invisalign braces is that they really are invisible! No one knows you are wearing braces.
What are the benefits of Invisalign?
Comfort
Invisalign aligners are made of a safe, high grade plastic designed to make your teeth straightening treatment comfortable and easy.
Appearance
Invisalign's clear aligners are virtually undetectable.
Custom Design
Each Invisalign patient will undergo a thorough oral evaluation. During your consultation, Dr. Deldar will inform you about your teeth's Invisalign design and the overall straightening treatment plan.
Removability
Invisalign's aligners are removable, allowing you to chew properly and clean mouth thoroughly.
Results
The Invisalign straightening system has helped many people achieve a balanced smile.
What to expect with Invisalign?
Dr. Deldar will perform a comprehensive evaluation to create a personalized treatment plan. Your treatment plan information and dental records will then be sent to the Invisalign lab. The Invisalign professionals use 3-D technology to design a series of aligners.
During your second visit, we will apply the aligners. Every two weeks, Dr. Deldar will switch out aligners to help your teeth gradually move into place.
IMPROVE YOUR QUALITY OF LIFE
Make an appointment today