Dr. Mike Deldar, TMJ Dentist Noblesville:
When you experience TMJ symptoms like migraines, headaches, neck, jaw, ear, or facial pain, you might be subjected to a TMJ (Temporomandibular Joint) Disorder, or 'TMD'.
Your TMJ joints, located on both sides of your head underneath your ears, could be affected, inflammated, or damaged by a variety of causes.
When you experience TMJ pain in any way, I am aware it can affect your entire life. Having treated hundreds of patients suffering from a TMJ disorder, I know by now that people with TMJ symptoms sometimes have to endure excruciating pain. Their daily life, work, sleep, and relationships can be heavily impacted by severe, ongoing muscle strains. Some people seek treatment immediately, some are determined to 'live through it', some seek more information to define the road ahead towards TMJ pain relief.
When you don't know what is causing your pain, it's hard to make a plan to get rid of it. You might have done some preliminary Internet research already and discovered that there is a myriad of information out there, but not particularly crystal clear.
You have probably Googled: "What is TMJ?" or something similar, and the answers you've found might be vague, complex, or confusing to you. Here's the reason why: A TMJ Disorder is in general not caused by just one thing, but in most cases by multiple factors.
Multiple causes, symptoms, pain locations, pain responses, and multiple interpretations by multiple people well .., makes it extremely hard to define: "That's it!".
The reality is: The complexity of a TMJ Disorder makes it difficult to pin point what exactly is going on, where it comes from, and most importantly: What to do about it!
But please, do not get discouraged because of this complexity, because there IS a 'method to the madness'.
A TMJ Disorder is a dysfunction of your temporomandibular joint(s) resulting in possible pain in all applicable areas above the lower back. There could be multiple factors causing TMJ dysfunction. 
When one, or both of your TMJ joints are hurting, it could be caused by:
Injury
Tooth Decay
Infection
Autoimmune Diseases
Arthritis
Stress
Teeth Grinding
Dental Procedures
Medical Procedures (Surgery)
Repetitive Action
Bad Posture
Genetics
In many cases, TMJ pain is connected to something that happened earlier: A fall on your back, a shoulder injury, a whiplash, a nose hit, or an extracted tooth that was never replaced.
It can also be caused by an issue that happens over a longer period of time like: Teeth grinding at night, wearing out your bite, chewing too much gum everyday, or sitting in an unhealthy position. (Bad posture).
Or it could be a genetic deviation that you were born with: An awkward position of your jaw, teeth, or even your tongue, can cause your TMJ muscles to suddenly react in a stressful way at a higher age, consequently producing severe strain, inflammation, or damage to the TMJ joint.
Consequently, you must be asking yourself …

Schedule a TMJ Diagnosis Appointment ($175)
Do I have a TMJ Disorder?
At this point, you probably have a better perspective in regards to the obvious question: What is TMJ?  The logical follow up question is: Do I have TMJ? Without a proper TMJ Dysfunction Diagnosis, the only answer to this question is: You really don't know, I really don't know, and no one really knows – as of this moment you're reading this. Only a thorough examination of your medical condition, oral health, bite, TMJ symptoms, and pain areas, can determine whether you experience a TMJ Disorder, or not.
When your pain symptoms indicate that you are subject to a TMJ Disorder, consider making an appointment for a TMJ Disorder Diagnosis. This will provide a conclusive answer whether you are a candidate for TMJ Treatment.
Why do dentists treat TMJ Disorders?
What will a TMJ dentist do for my TMJ pain?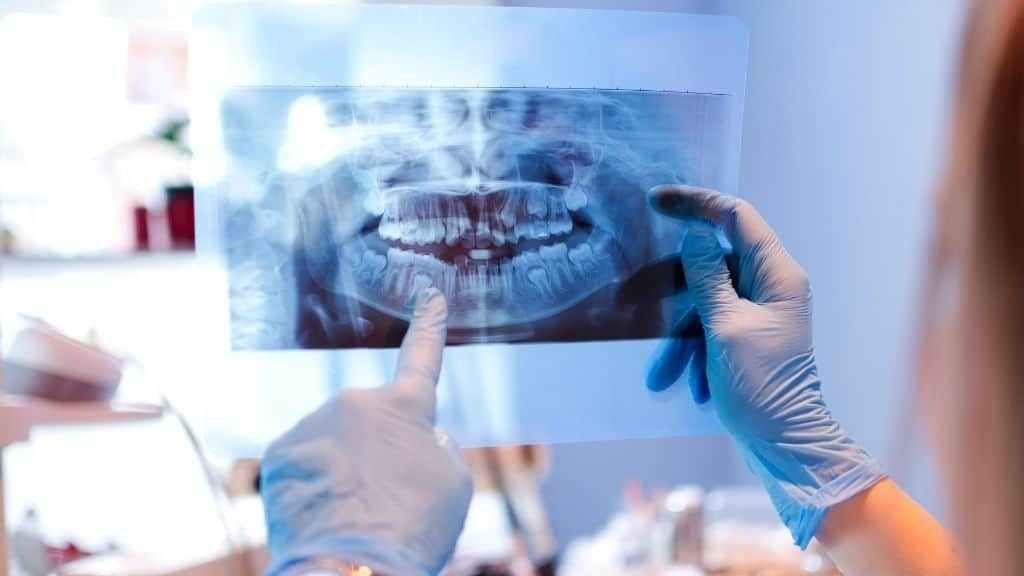 Many people are unaware that your bite plays a very significant role with TMJ disorders. Injuries, prior dental treatment – or the lack of it, teeth grinding, chewing habits, and genetic causes, can all leave an impact on your bite.
When your teeth are wearing out, change position because of teeth loss or damage, the upper and lower jaws will not align properly, making the bite uneven, therefore creating an imbalance and stress that can affect multiple muscle groups.
These strained and stressed muscles can then trigger multiple TMJ pain symptoms like
Migraines and Tension Headaches
Neck and Shoulder Pain
Jaw Pain
Ear Pain
Facial Pain
Sinus and Eye Pain
A TMJ specialized dentist has the knowledge and the technology to measure and define bite imbalances, muscle tensions, and the affected pain areas.
By providing specific TMJ treatments like
TMJ Orthotics
Bite Modifications
Full Mouth Reconstructions
A TMJ dentist Noblesville (neuromuscular dentist) can restore your bite balance, relax the affected muscles, which can reduce or completely eliminate TMJ Pain.
Deldar Dental has successfully treated hundreds of patients with a TMJ Disorder. But please realize that everyone's medical condition, oral health, and pain levels are completely different and unique. There is no such thing as 'The One and Only TMJ Silver Bullet'. Therefore, there is not one dentist on the planet that will provide an absolute TMJ treatment guarantee.
Nevertheless, we will do everything in our power to provide you with a dental solution that can reduce or eliminate TMJ pain to improve your quality of life.
Noblesville TMJ Dentist Dr. Mike Deldar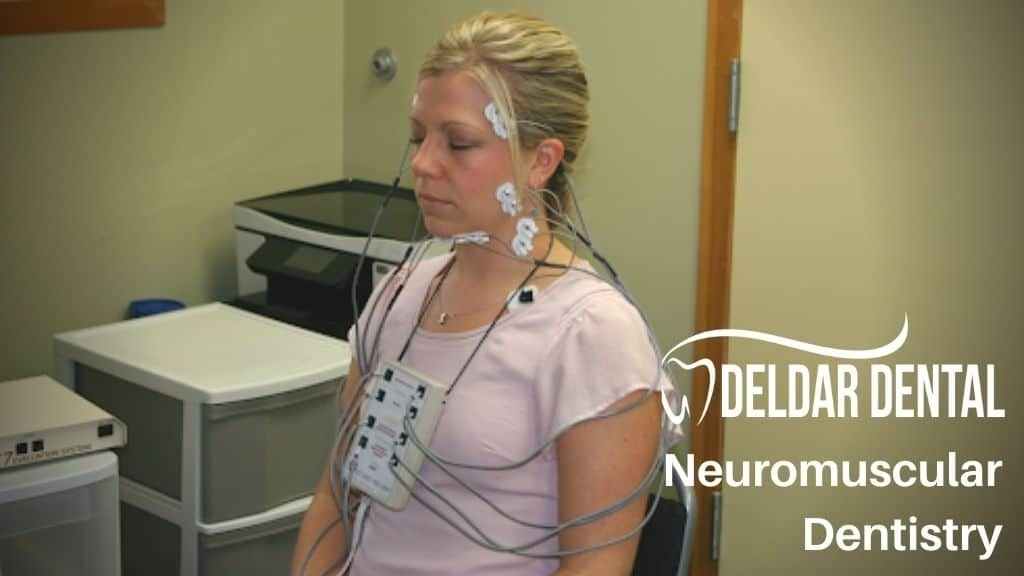 Since your TMJ pain can have so many different causes, resulting in so many symptoms, resulting in so many different pain locations, it's impossible to determine a TMJ treatment plan without a thorough dental examination. Only a dental professional with Neuromuscular Dentistry experience will be able to provide you with reliable information, or a conclusive diagnosis.
For immediate pain reduction, here are some tips in case you are in situation when you are in need of immediate TMJ pain relief:
Wear a mouth guard 24-7 to reduce clenching or grinding
Obtain an over-the-counter pain reliever find some comfort
Try to keep your jaws as relaxed as possible
Consult your Medical Doctor or Dentist now, when the pain is unbearable
I sincerely hope that when you found this web page after Googling something like "What is TMJ?", you begin to see the big TMJ picture. TMJ is not just one "thing". It is a complex topic with multiple factors playing a role in the diagnosis and treatment of TMJ disorders.
When you are at the point to take resolute action to get rid of your TMJ pain, but you don't know exactly what to do, you're not alone. At this very moment, without a doubt, there must be thousands of people looking at their laptop, tablet, or smart phone, to obtain answers about their condition. At any rate, please do something. Don't live in pain. Living in pain is not living at all.

I wish you strength at this challenging moment and most importantly CLARITY, so you can define the next steps toward TMJ pain relief. Rest assured, at Deldar Dental – we can help.

Dr Mike Deldar
Neuromuscular / TMJ Dentist Noblesville Indianapolis
If you have been searching for a "TMJ dentist near me" or "best TMJ pain treatment near me" look no further! Deldar Dental is also serving the communities of Indianapolis, Carmel, Fishers, Westfield, Lapel, Hamilton County, and surrounding areas in Indiana. 
Don't make TMJ Pain a thing of the future
Forget about living with TMJ Pain
Stop your sleepless nights
Avoid getting fired, wreck your social life, and messing up your entire life
Don't wait. Waiting will always make it even worse
End your TMJ Pain
Make TMJ Pain a thing of the past
Get your life back
Experience days and nights without TMJ Pain
Feel better by taking control
Say: "Hello again!" to friends and family
Enjoy your life the way it was before
IMPROVE YOUR QUALITY OF LIFE
Make an appointment today