What is causing my facial pain? It could be a TMJ Disorder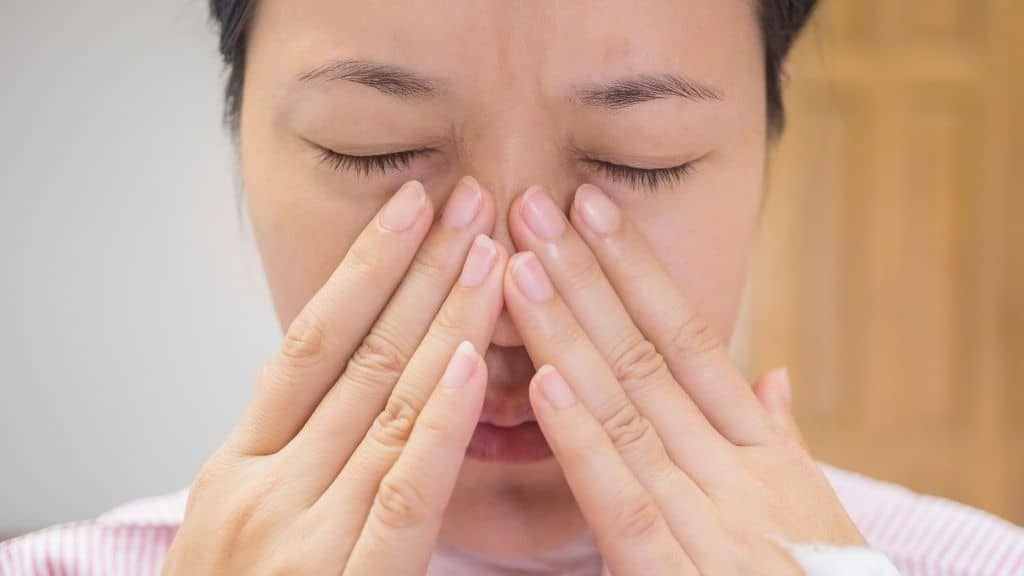 "When you experience facial pain, I am aware it can affect your entire life. Having treated hundreds of patients suffering from facial pain symptoms, taught me that people with facial pain sometimes have to endure excruciating pain. Their daily life, work, sleep, and relationships can be heavily impacted by an ongoing strain around the eyes, nose, mouth and cheeks. Some people seek treatment immediately, some are determined to 'live through it', some seek more information to define the road ahead towards facial pain relief.
When you don't know what is causing your facial pain, it's hard to make a plan to get rid of it. You might have done some Internet research and found two possible causes:
Both have significant different symptoms, but both can cause facial pain, so it's hard to determine the cause without a thorough examination. Though the Internet is an amazing resource for information, some articles can reflect contradicting causes, view points and treatment approaches. Confusion is not uncommon here.
When you are at the point of taking resolute action to get rid of your facial pain, but don't know what to do, please read this page thoroughly, then take action.
I wish you strength at this challenging moment and most importantly CLARITY, so you can define the next steps toward facial pain relief."
Dr Mike Deldar – Deldar Dental
Neuromuscular Dentist Noblesville / Indianapolis

Schedule a TMJ Diagnosis Appointment ($175)
Do I have TMJ (Temporomandibular Joint) disorder?
It's important to understand the unique symptoms of both a TMJ Disorder and Trigeminal Neuralgia. The symptoms below will help you identify which condition you may have.
Clicking or crunching in your jaw joint
Difficulty opening your mouth
Muscle spasms
Your jaw locks open or closed
The pain radiates into your neck and shoulders
Headaches or migraines
Ringing in your ears
The facial pain from TMJ disorder may feel similar to arthritis. Trigeminal neuralgia feels sharp and electrifying.
This name applies to many conditions that impact the temporomandibular joints. These important joints connect your jaw to your skull. TMJ Disorder or TMD for short, can throw off your jaw's alignment. This causes several symptoms throughout your face and body.
I see it again and again: patients don't realize that TMJ can cause pain in other areas of the body. In fact, TMJ often causes aches and pain in your neck, back, and shoulders.
Our comprehensive TMJ treatment plan includes a few steps. This plan targets the painful symptoms while healing the root cause.
Initial pain relief with Ultra-Low Frequency Transcutaneous Electrical Neural Stimulation (TENS) is an excellent drug-free method. This technique improves blood flow and promotes natural pain relief from endorphins.
Adjusting your bite. I use a non-invasive, custom-built orthotic that can gently balance your jaw to its optimum position.
Making it last. This step varies depending on your personal needs. Methods may include braces, adjusting your tooth enamel, crowns, or full smile makeovers. The goal is to stop what's causing your TMJ disorder at the source while enhancing your bite at the same time.
It's even possible you face both conditions. That's why you should meet with a qualified Physiologic TMJ dentist to discuss your symptoms and find a comprehensive treatment.
Dr. Deldar is also serving the communities of Indianapolis, Carmel, Fishers, Westfield, Lapel, Hamilton County, and surrounding areas.
Noblesville TMJ Dentist Dr. Mike Deldar
Don't make Facial Pain a thing of the future
Forget about living with Facial Pain
Stop your sleepless nights
Avoid getting fired, wreck your social life, and messing up your entire life
Don't wait. Waiting will always make it even worse
End your Facial Pain
Make Facial Pain a thing of the past
Get your life back
Experience days and nights without Facial Pain
Feel better by taking control
Say: "Hello again!" to friends and family
Enjoy your life the way it was before
IMPROVE YOUR QUALITY OF LIFE
Make an appointment today