smile makeover Noblesville
A smile makeover in Noblesville: It's all about first impressions!
Your smile makeover options
Your smile can say so much about you. Chances are, if you have a balanced, beautiful smile, you will be more inclined to show it off. A smile makeover can help you get achieve a first impression that lasts. Let Dr. Deldar, a highly trained Noblesville cosmetic dentist explain.
With a variety of smile enhancement possibilities available today, you can change virtually anything about your smile. For crooked teeth, Noblesville cosmetic dentist Dr. Deldar can recommend orthodontic treatments or perhaps porcelain veneers. For chips and cracks, dental bonding is sure to do the trick. Porcelain crowns are great for teeth with large cavities or fractures. White-colored fillings can also be used for small problem areas.
If your smile is stained, try our advanced tooth whitening services that can take you up several shades in one short session. If you have missing teeth, our dental implants look and feel like natural teeth. During the smile makeover evaluation, if there are problems detected with your bite, we can begin an advanced neuromuscular dentistry diagnosis and find treatment solutions that can help improve your mouth comfort and appearance.
With a variety of cosmetic dentistry services and a highly trained team of dental professionals, you can get a smile makeover that boosts your confidence.
Noblesville Cosmetic Dentist Dr. Mike Deldar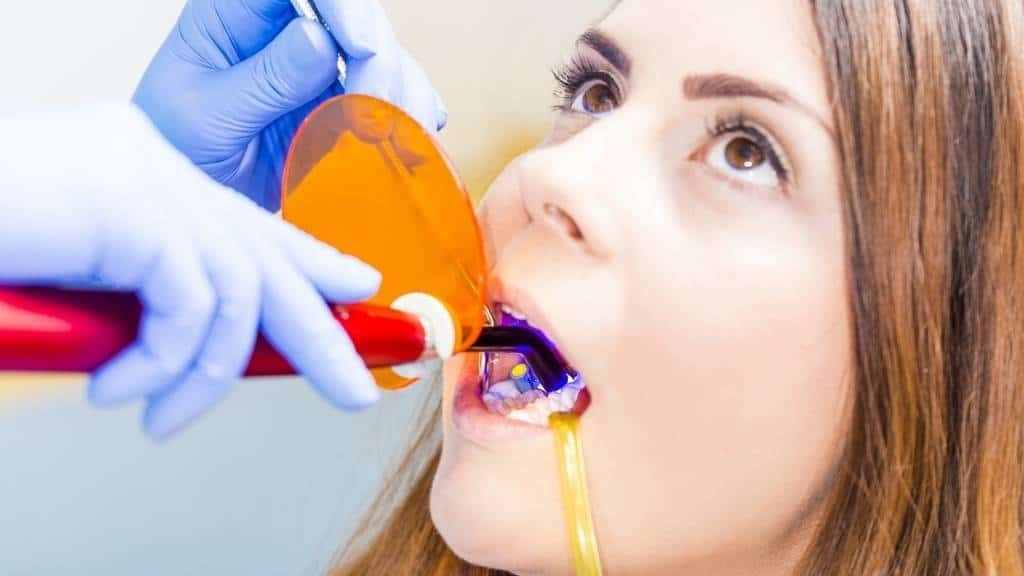 Chipped or stained teeth can make you feel so self-conscious that you stop smiling. Fortunately, there's a simple solution to your problem: cosmetic bonding. Dr. Mike Deldar, shares information on this affordable dental procedure.
Your dentist uses composite resin, a flexible plastic-based material, to repair defects in your teeth. The resin is tinted to match your tooth color and can be molded into any shape.
Bonding is a good solution for several cosmetic issues, including:
Cracked teeth
Chipped teeth
Gum recession
Stained teeth
Oddly shaped teeth
Short teeth
Gaps
Cosmetic bonding is ideal for filling in small gaps between teeth, although if you have large gaps and also have bite issues, orthodontia. might be a better option. Bonding is also a good alternative to traditional fillings.
The bonding material matches your tooth color, unlike metal fillings, and your dentist doesn't have to remove as much healthy tooth surface to place the fillings. One of the most impressive uses of cosmetic bonding involves totally changing the appearance of teeth. Thanks to the flexibility of the bonding material, your dentist can lengthen your tooth or make a crooked tooth look straight.
What happens during the dental bonding process?
Step #1
Before the cosmetic bonding process begins, your dentist will choose a resin color that most closely matches your natural color. He'll prepare the tooth by lightly etching it and add a coat of a special pre-bonding liquid.
Step #2
When the tooth is prepared, he'll place the resin on it, shaping the material as needed to correct defects. He'll use an ultraviolet light to cure the bonding, which will ensure that the material is just as hard as your natural teeth.
Step #3
A quick polish completes the process.
Want to improve your smile with cosmetic bonding? Contact Deldar Dental, your cosmetic dentistal experts in Noblesville, IN today. Don't you deserve to look your best?
Your Smile Makeover Team in Noblesville
Deldar Dental believes in the philosophy of personal patient services and uncompromising, state-of-the-art care. We believe in creating a pleasant experience for you.
Both of our dentists are among the few Las Vegas Institute (LVI)-trained dentists in the state of Indiana who have participated in advanced cosmetic dentistry education.
IMPROVE YOUR QUALITY OF LIFE
Make an appointment today